I strongly believe that, Robert Pattinson and Kristen Stewart never imagined what their life after would be after their role as Edward & Bella in Twilight. They would ever imagined thesgigantic amount of their money in their bank accounts, that they could be the cutest off-screen couple and that their resemblance could be the most seeking objects for the magazine covers wide spread from USA to Europe and Asia.
Either their resemblance as Edward & Bella
Bravo – Romania
First Magazine – Singapore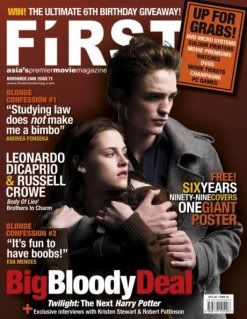 Premiere Magazine – Mexico
or their resemblance as Robert Pattinson & Kristen Stewart
Film Fantasy Magazine – Twilight Tribute issue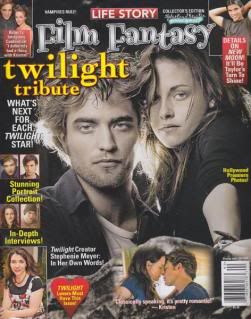 Entertainment Weekly
ONE Magazine – France, Twilight Collector issue
or being portrayed for posters in ONE Magazine – France, Twilight Collector issue
and of course the most famous picture for the cover of Girl Friend Magazine Australia for June Issue.
Have you ever seen an off-screen couple being captured in many magazines only in very short time like Rob & Kristen? Until the moment I wrote this blog, they are still phenomenon.
See more picture of the phenomenal couple here
I write so I can share what I see through my heart, my personal point of view and my own analysis.
Disclaimer: All photographs used in this blog are belong to their rightful owners. No copyright infringement intended