After the mission accomplished and the e-book, as a gift for Han Geng's 27th birthday reached him last month, this is my time to share what me and sltan composed for almost 4 months. First is the introduction.
Over the past 3 years of my fandom, I've been writing many blogs, but never in that period, have I been so actively writing that would resulting more than 2 blogs in a month.
My latest bias is the Chinese popular male singer, who specilised in dancing and took my heart away by his soothing thin tenor voice – Han Geng. In less than 6 months, he managed to knock my head harder than any other star. Language was the biggest barrier, but did not stop me from writing more blogs.
The wonderful thing about Han Geng was, he didn't knock my head and captured my heart with his extravagant drop-dead gorgeous look. Yes, he is a good looking Chinese young man, but not someone who can made me hyperventilated. It was his dazzling sophisticated dancing skill which captured my eyes. It was his beautiful voice that melted my heart. It was his distinctive personality and heart-warming smile that made me admire him and slowly grew my respect for him.
After few months of fandom, from zillions of his pictures which captured various emotions and gestures as well as tons of video of his performance which shows his talent and personality, I found that he is almost perfect. Han Geng is a simple Chinese guy with feline handsomeness who sometimes looks ordinary among others, but he has great talents and distinctive personality that made him exceptional.
Han Geng is smart and charming, genuine and sincere, someone with high self confident. He is also witty and has a sweet self deprecating attitude. His dancing talent, especially in the area of Chinese traditional dances completes his charismatic personality and made him positively captivating. In my heart, though his personality does not make him flawless, Han Geng is still a man of respect and commitment.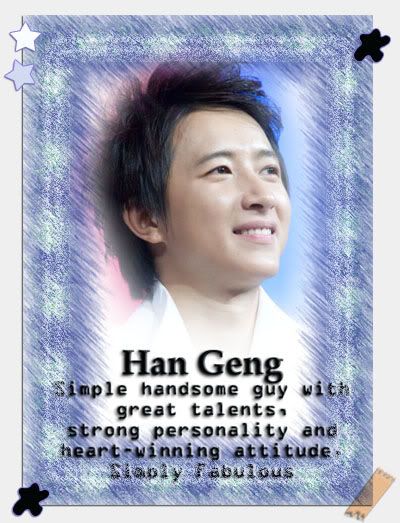 I realized that my admiration would only be accommodated if I can produce something that can reflect my thoughts, show how my heart view the various things about Han Geng and share the love for Han Geng to more friends.
From below pictures, let me share a short glance to our e-book ^_^