It's been quite annoying for me to read articles about Robert Pattinson's six-packs showed during the Italy scene. Until now I do agree that the make up artists did something to make abs looked more convincing. But I must say also, the make up could not do anything, if Robert did not have the packs himself.
Let me give my evidence, the reason I am sure that Robert really has the packs.
This is the picture of our drooling-swooning object, Edward Cullen, bare-chested and six packs
This is the picture of Robert Pattinson off-screen with his wash board abs.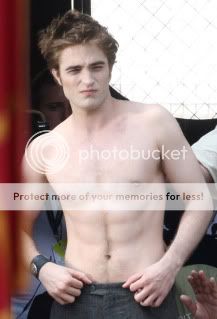 I will start with not the best picture of Robert. You can see his flabby tummy here.
Then, for GQ April issue, this picture showed flatten tummy. This well-fitted white shirt gave us clearer image. He's lost his flabby tum.
Now, let me show you his other pictures. This one was taken before he left for Italy.
Look at his bulkier chest and the shadow of his muscled tummy.
and this one is another picture before the Italy scene
Look at his waist line. It looks leaner.
The last one is the one that convinced me. The look of his back. it has the real muscle. Take a look at his muscled arm too.
I must admit, I am freaking crazy fan of Robert Pattinson. But I will not say anything untrue about him. If I say he has muscle and his abs is real, at least I have the evidences.